Radiofrequency ablation (RFA) is a minimally invasive procedure performed by North Texas Pain Institute to minimize lower-back pain, neck pain, and pain related to degeneration of joints due to arthritis.

AN ELECTRICAL CURRENT PRODUCED BY A RADIO WAVE HEATS A SMALL AREA OF NERVE TISSUE AND THROUGHOUT THAT PROCESS, DECREASES PAIN SIGNALS FROM THAT AREA.
Radiofrequency ablation works by introducing an electrical current produced by a radio wave to an area of nerve tissue. The current heats up a small area of the nerve tissue which results in a lesion. This helps minimize pain signals from that specific area. Radiofrequency ablation is most often performed with local anesthetic and mild sedation and commonly takes 30 minutes. If you're seeking help for pain management, please contact North Texas Pain Institute's office to schedule an evaluation – (972) (851-4302) or book your appointment online today.
TYPICAL BENEFITS OF RADIOFREQUENCY ABLATION:
Longer lasting pain relief in comparison to steroid injections
Reduction or relief of pain
Short recovery time
Improved range of motion
Reduction in pain medication
Semi-permanent disturbance of the pain signals
Targets nerves part of the spinal column sending pain signals to the brain
Reduced need for anesthesia as this has a reduced degree of nerve damage.
Decreases the pain from severe knee arthritis without needing a knee replacement
Pain-free benefits of 6 to 12 months on average. Some patients claim pain relief for up to 2 years.
YOUR RADIOFREQUENCY ABLATION PROCEDURE
Sedation via IV is recommended and the patient is monitored by an Anesthesiologist or Certified Registered Nurse Anesthetist. Your physician starts the procedure by cleaning the skin around the injection site and injecting a local anesthetic to numb the skin. Another needle is placed through the numb tissue under fluoroscopy (a live X-ray used to help guide the injection to the precise target location). When proper needle placement is confirmed, a small electrical current is sent through the needle to ensure it is near the target nerve. Pulsed radiofrequency ablation is performed in intervals of high voltage current of 20 milliseconds, at a temperature between 104 and 107.8 degrees Fahrenheit which weakens the membrane target area. The nerves are numbed continuously to decrease pain while the lesion is being created. This lesion disrupts the nerve\'s ability to send pain signals. The process is then repeated for additional nerves in order to destroy the nerves and the signals that are sent to the brain.
RADIOFREQUENCY ABLATION ON THE KNEE
Radiofrequency Ablation on the knee is performed with small needles around the knee capsule. Three needles are inserted around the outside of the knee near the genicular nerves. These nerves are then ablated to help decrease the pain from moderate to severe knee osteoarthritis. There is minimal recovery time and no incisions needed for long-term pain relief.
RADIOFREQUENCY ABLATION ON THE NECK AND BACK
When Radiofrequency Ablation is performed on the back and neck, a small needle is placed near the medial branch nerve that innervates the targeted facet joint. Sensory and motor stimulation is done in order to ensure proper placement of the needle. After live fluoroscopic X-ray pictures are taken and appropriate stimulation patterns, thermal radiofrequency ablation is performed to cauterize the nerve. After the ablation has been performed, a local anesthetic and a steroid medication, unless not indicated, are injected to help with post-procedural pain.
CONDITIONS TREATED WITH RADIOFREQUENCY ABLATION
Radiofrequency Ablation was first used primarily to treat lumbar facet joint pain, bone spurs, and tumors.
It is now used for a variety of conditions including:
Lumbar degenerative disc disease
Neck, back, and pain related to joints from arthritis
General arthritis pain
Chronic lower back pain
Facet joint pain
Facet arthritis / arthropathy
Chronic neck pain
Cervical degenerative disc disease
Knee osteoarthritis (OA) and degeneration
Neuropathy
Postherpetic neuralgia
Sacroiliac joint pain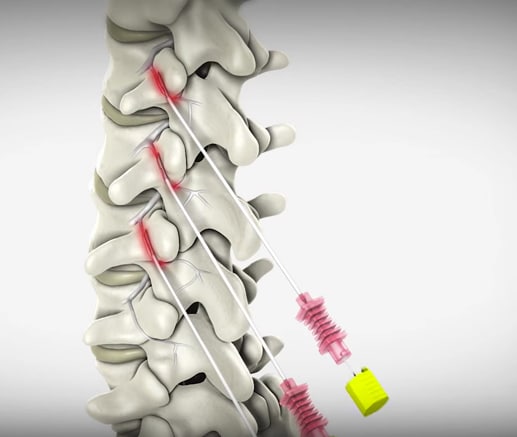 RADIOFREQUENCY ABLATION CONSULTATION WITH ARTHRITIS RELIEF INSTITUTE
If you are suffering from acute or chronic pain and need relief from arthritis or other pain conditions, please contact North Texas Pain Institute and we\'ll discuss the pain management treatment plan that is right for you.
Contact 
North Texas Pain Institute

Today

Please fill out the form below to be contacted by our compassionate team of experts who are more than happy to talk you through the process of becoming a patient.

You can also reach us at (214) 915-2619.